Reliant Ribbon Shipping & Returns Policies
Shipping:
Lead Times:

For smaller stock orders: normally 24 - 48 hours.
For larger orders: normally, can range from 48 - 72 ours or longer if production is required.

All orders are shipped FOB Paterson, NJ (unless other terms have been prior negotiated and approved by Reliant Ribbons Bows and Trims Management)
Unless otherwise specified all orders are shipped via Standard Ground. We also offer the following shipping options:
- 3rd Day – Package is guaranteed to arrive 3 days after shipping
- 2nd Day – Package is guaranteed to arrive 2 days after shipping
- Overnight – Package is guaranteed to arrive the day after shipping
For orders shipped outside the continental United States, special terms and additional charges normally apply.
Standard Ground Transit Days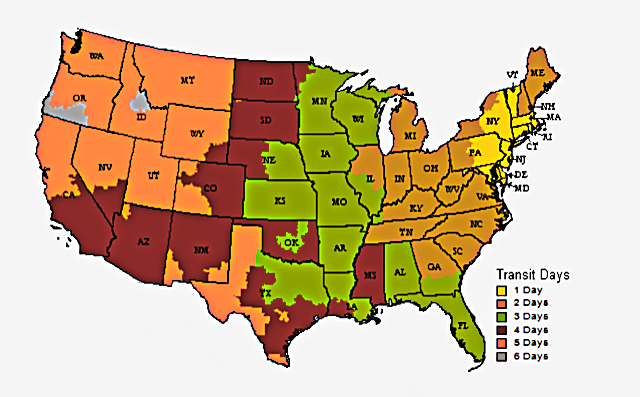 Returns:
Customer needs to obtain a Return Authorization (RA) number from Reliant prior to returning any merchandise. Authorized returns are at the sole discretion of the management of Reliant Ribbon.
Reliant Ribbon will not accept any unauthorized return of its merchandise (returns without an RA number).
Return authorization (RA) number must be written on the outside of all cartons of returned merchandise and should include a copy of the original packing slip.
Items depicted on our website or in our catalog may vary from their actual appearance.
Variations in size, color, texture and quality must be acceptable to customer and are not a basis for returning merchandise. In the event of a customer accommodation return, a 15% restocking fee will apply.
Reimbursement for returns will be issued in the form of a company credit.
Credits must be used within a period of 6 months after issue. Credits that are not used within 6 months will be canceled.
Backorders:
From time to time items are not available for immediate shipment. In such cases we backorder the items and ship them as soon as they become available.
Backorders that total less than $50 will be automatically canceled.
Backorders can be shipped a few days or a few months after the first shipment depending on the availability of the raw materials and other production factors.
All backorders are automatically canceled 6 months after the first shipment of an order unless the customer requests otherwise.
If customers would not like to receive backorders or would like to receive smaller backorders, please note these desired instructions when placing an order.
Minimum Order | Small Order Fee

Payment:
Reliant Ribbons Bows & Trims accepts the following forms of payment:
Credit card
Established credit terms
Payment in advance
Buy with confidence. Our site is secure!
Note: The terms described on this page apply to orders shipped within the continental United States only. Special terms and additional costs normally apply to orders shipped outside the continental United States. Please contact us for more details.